Why you should use me to plan your next vacation
I have been in the cruise business since 1990 and traveled the world. My favorite city is Paris and my favorite type of travel is Cruising. I have sailed on 78 cruises. I  have been on Holland America Line, Princess, Carnival, NCL, Royal Caribbean, Celebrity and Costa. I took my very first cruise Thanksgiving 1962 on a 12-night cruise on Holland America Line's Nieuw Amsterdam. The cruise ship I have sailed on the most is the original Rotterdam from 1958 for a total of 8 times.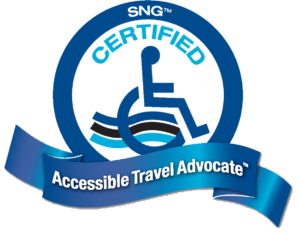 ---
I am a graduate of Royal Caribbean's WOW University, Celebrity's 5 Star Academy, Azamara Club Academy, Princess Commodore, Cunard Commodore as well as AMAWaterways, Globus Family of Brands, Emerald Waterways, Scenic Cruises as well as CLIA Certified. I accomplished ACC, MCC, ECC and LCS distinction.
I have also taken training with some land resorts as well from Sandals/ Beaches and Couples Resorts to Playa Resorts to name a few.
---
Why Use A Travel Agent?
You will be supporting a small local business – not a monopoly
It costs nothing to use our service – we're paid on commission basis
You'll be working with someone who has a passion for the business and not just an automated system or foreign employee
We help to narrow down the destination that best suits you, so it's a perfect fit
We price shop for you & we stay competitive. We analyze the current promotions – the cheapest is not always the best & often there are hidden costs.
We break down all the travel lingo
The TSA & travel industry are constantly changing. We help translate & keep you up to date on new travel rules so you don't get turned away at the airport.
We receive constant updates on destinations via email, relationships with district managers and hotel staff.
Sometimes we are able to get extras included
Our rates are the same as online, most times we can get lower rates with our wholesalers
We go over tours and excursions with you to give you the best tour options
If you need to change anything on your trip, we do all that work and can sometimes get change fees waived
We make sure you have everything covered, including packing tips, airport travel advice, etc.
We have been to dozens of destinations which enables us to give you a very clear picture of your destination.
We have access to support that the public doesn't have. We get feedback from clients and we take continuing education to keep us updated
We read the fine print – penalties, restrictions are often missed
We enhance your trip. Contacting the hotel staff of your arrival, special amenities and much more is all included
We have access to 24/7 support while on your trip
We get problems solved! We are a consumer advocate in the event something inadvertently goes wrong
You use professionals like accountants, financial planners, real estate brokers to help you get the most out of your money. Why not use a travel agent?
Danny's Certifications
Certified AmaWaterways River Cruise Specialist
Certified AMResorts Master Agent
Certified American Cruise Line Specialist
Certified American Steamboat Specialist
Certified Antigua & Barbuda Specialist
Certified Aruba Specialist
Certified Atlantis Resorts Specialist
Certified Australis Expedition Specialist
Certified Avalon Waterways Specialist
Certified Azamara Cruise Specialist
Certified Celebrity Cruise Specialist
Certified CLIA Accredited Cruise Specialist
Certified CLIA Elite Cruise Specialist
Certified CLIA Luxury Cruise Specialist
Certified Contiki Specialist
Certified Cosmos Specialist
Certified Crystal Cruise Specialist
Certified Cunard Cruise Specialist
Certified Dominican Republic Specialist
Certified Emerald Waterways Specialist
Certified Goaway Specialist
Certified Grand Palladium Specialist
Certified Hard Rock Specialist
Certified Hilton All Inclusive Resorts Specialist
Certified Holland America Line Cruise Specialist
Certified Hyatt Ziva & Zilara Specialist
Certified Insight Specialist
Certified Jamaica Specialist
Certified Jewel Grande Montego Bay Resort & Spa Specialist
Certified Luxury Gold Specialist
Certified Monograms Specialist
Certified MSC Cruise Specialist
Certified Norwegian Cruise Specialist
Certified Oceania Cruise Specialist
Certified Palace Resorts Specialst
Certified Palladium Specialist
Certified Palladium/Costa Mujeres Specialist
Certified Panama Jack Resort Specialist
Certified Pleasant Holidays Specialist
Certified Pleasant Pro Academy Premier Ambassador
Certified Princess Alaska Cruisetour Specialist
Certified Princess Cruises Specialist
Certified Rafa Nadal Tennis Centre Specialist
Certified Regent Seven Seas Luxury Cruise Specialist
Certified Rocky Mountaineer Specialist
Certified Royal Caribbean Cruise Specialist
Certified Sanctuary Resort Specialist
Certified Sandals Specialist
Certified Scenic Luxury Cruises & Tours Specialist
Certified Seabourn Cruise Speicailist
Certified Silversea Cruise Specialist
Certified TRS Hotels Specialist
Certified TRS Yucatan Hotel Specialist
Certified Uniworld Boutique River Cruise Specialist
Certified Victory Cruise Line Specialist
Certified Viking River Cruise Specialist